Bauhaus A-M2-S Alto Saxophone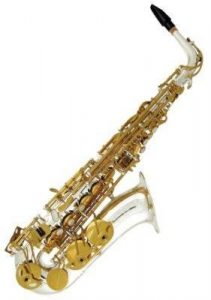 The Bauhaus A-M2-S Pro Professional Alto Saxophone is free blowing, providing the ultimate response for accomplished saxophone players, lively, vibrant, resonant, yet stable. It has a silver plate body with gold lacquer keywork. Top of the range black kangaroo pads with white porcelain resonators give an even tone across the range. This is a very versatile instrument,  capable of smoky ballads and raucous rock; it is capable of purity without being too bright.
FEATURES
Overslung Octave Key
High F# Key
Ribbed Construction
Fine Adjustment Screws on Lower and Upper Stack
Double Key-Arms C# + B
Hand Hammered Bell
Ergonomic Thumb Rest & Thumb Hook
Quality 4C Mouthpiece, Ligature, Cap, Polish Cloth and Sling
Silver/Black PVC Shaped Hard Case
SPECIFICATIONS
Large Bell Diameter
Gold Brass Lacquer Keywork – Rods 4.7mm Diameter
Body Material – Brass with Silver Plate
2kg Instrument Weight
1.9kg Case Weight
Blue Steel Needle Springs
Real Mother of Pearl Touch Pieces
Black Kangaroo Pads with White Porcelain Resonators
Low Bb to High F# – Key of Eb
The Bauhaus A-M2-S Alto Saxophone is well made from quality materials, and is very much built to last.