Bauhaus BS-P Original Bronze / Copper Baritone Saxophone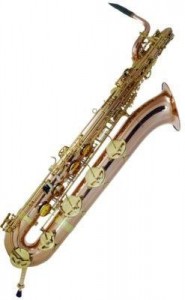 ORIGINAL BARITONES:
The Bauhaus Baritone saxophone has a wealth of different features and is now also available in lacquer.
FEATURES
Three-vent octave mechanism – helps to facilitate clarity
and tuning when playing G, G# and A with the octave key
High F# Key
Ribbed Construction
Adjustable key guard felts for venting and tuning
Double Hinge on Low A to create lightness of action
Double key arm on low C
Water key for elimination of condensation
Three-point bell to body bracing
Lyre Box
Hand hammered detachable bell
Ergonomic adjustable Thumb Hook
Detachable, adjustable "spike" – useful for players who need extra support
Mouthpiece, Ligature & Cap
Black Wood-framed Case – Carry Handles – Wheels for greater mobility!
SPECIFICATIONS
Bell Diameter 172mm
Robust Brass Keywork 5mm Diameter
Body Material – Bronze 93% Copper/ 5% Zinc/ 2% Tin
5.8kg Instrument Weight
Blue Steel Needle Springs
Domed metal resonators – leather pads
Key of Eb – Range Low A to High F#
Bauhaus' claim that the keywork is "robust" is not idle. It is much like the rest of the saxophone – made skillfully, of quality materials, and built to last.
The Legendary Bobby Wellins
Bauhaus are honoured and somewhat awed by the joining of their first major endorsee – Bobby Wellins – who has been impressing critics and inspiring players for over 50 years: "His influence and importance to several generations of British jazz musicians and improvisers is obvious just by checking out how many of them mention him as either an influence, collaborator, teacher — or all three." Eugene Chadbourne, All Music Guide
Bauhaus BS-P Original Bronze / Copper Baritone Saxophone