Mendini by Cecilio MTS-L+92D Tenor Saxophone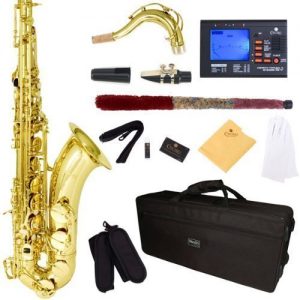 Mendini by Cecilio MTS-L+92D Gold Lacquer B Flat Tenor Saxophone with Tuner, Case, Mouthpiece, 10 Reeds and More
Mendini saxophones are the perfect instruments for the student musicians and a great addition to any level players.
The large bore makes it easy for young players to get a great, full bodied sound and the fast action keys allow for easy playability for all players. The tone is deep and rich with even intonation throughout the full range.
Mendini by Cecilio MTSL Tenor Saxophone Package includes: a plush lined nylon covered hard case with backpack strap and zippered pocket, a neck strap, a mouthpiece with reed and cap, a box of 10 reeds (size 2.5″), a polishing cloth, cleaning rod, and a pair of white gloves to keep your instruments spot free when being played. Buy with confidence as it comes with a 1- year warranty against any manufacturer's defects.
Mendini by Cecilio MTS-L+92D Tenor Saxophone has a gold lacquered body and keys Bb with high F# key.