Yanagisawa A-991 Series Professional Alto Saxophone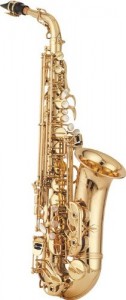 ---
Get The Best Deal
See Special Price
$5,550.00
---
Quality and features meet great value with the Yanagisawa A-991 Series Professional Alto Saxophone.
The Yanagisawa A-991 alto sax is the product of the finest Japanese instrument craftsmanship in a fully professional quality step-up saxophone. Performers find that this saxophone offers superb resonance and a refined sound. Intonation is even over the saxophone's entire range and at all dynamic levels. With a wide palette of tonal colors, the A991 blends well with other wind instruments.The Yanagisawa A-991 sax sounds beautiful in all registers and has a big voice. If you're stepping up from a student saxophone, you'll find the A-991 alto sax to be refined and focused with even intonation over its entire range and at all dynamic levels. With a range from low Bb to high F#, both upper and lower register notes come forth easily even at quiet dynamics.For fast runs and other techniques that require quick response, Yanagisawa has set the keys closer to the holes than some other professional saxophones giving you an edge. Yanagisawa includes a sway-free mechanism for the auxilliary F and low C# keysan additional professional touch. You'll also be pleased with how well the octave keys fit your palm.
Of course, Yanagisawa saxophone build quality is second to none and you will appreciate the A-991 saxophone's top quality lacquered brass and you will love its hand-engraved bell.
Each Yanagisawa A-991 alto sax is accompanied by a mouthpiece, a case, and a set of care products. This is a sax you will be very proud to own.